Big Ass Fans Streamline IT Communication with KACE
11 Feb 2019
Does your team struggle to keep track of help desk requests, software updates, security patch deadlines and compliance requirements? Are team members communicating via a mix of email, instant messaging and post-it notes? These are not uncommon issues, but they can be serious ones when your network security is at risk.
With the proliferation of various devices connecting to your systems, including personal and company-owned smartphones, tablets, internet-of -things (IoT) technologies and more, security threats increase exponentially. You now have more endpoints to manage, more software to update and more compliance regulations to stay on top of than ever before. Communication is key, and it's something that many IT departments are struggling to get a handle on.
For example, Big Ass Fans, makers of … well, big ass fans for industrial purposes, educational facilities and other public spaces, had some serious communications issues in its IT department. The team was spread out, and information was shared in a haphazard fashion via email, word of mouth, and instant messaging. It was difficult to keep track of customer service jobs and other system details.
Now, however, the company uses KACE Systems Management Appliance (SMA) to automate IT operations and centralize communications. The team can track software deployments, system inventory and other IT tasks while safeguarding the network and better serving their users' needs.
Watch this interview with Brady Williams, IT administrator with Big Ass Fans, to learn more about the company's success with KACE: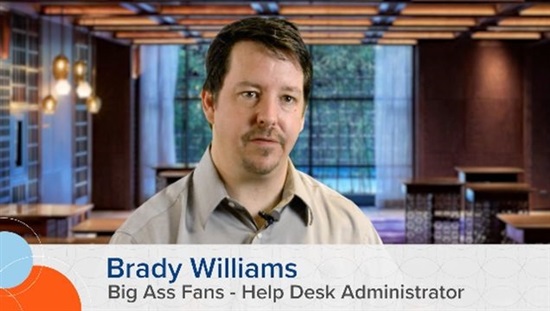 KACE SMA provides comprehensive IT systems management, enabling you to secure every network-connected device and streamline asset management.
Track inventory for all hardware and software
Patch mission-critical applications and operating systems
Reduce the risk of a network breach
Ensure software license compliance
Want to take a deeper look at what KACE Systems Management Appliance (SMA) can do?
https://www.quest.com/webcast-ondemand/kace-systems-management-appliance-sma-ondemand-demo8130631/